October 2, 2020
Accelerated Reader includes more than 210,000 quizzes on a wide range of fiction and nonfiction books. The majority of these are Reading Practice Quizzes, which assess students' literal comprehension of the books they've read. In an earlier blog, we provided a behind-the-scenes look at the creation of Reading Practice Quizzes, explaining how we select and process titles, how the quizzes are written and reviewed, and how we ensure quizzes are available for highly anticipated new books.
In this blog, we'll explore two other quiz types in Accelerated Reader: Vocabulary Practice Quizzes and Literacy Skills Quizzes. We'll also look at the Spanish-language Reading Practice Quizzes in AR, which help to support emergent bilingual students and the development of English-Spanish biliteracy.
Because so many students are learning remotely this fall, we also want to note that AR supports at-home quizzing—along with quizzing in public libraries, community centers, and other locations where students are spending time. You'll find details about this feature, including guidance for making the most of at-home quizzing in AR, in this recent blog.
Vocabulary Practice Quizzes
AR's Vocabulary Practice Quizzes are used in conjunction with Reading Practice Quizzes to help students build their vocabulary by focusing on select words in books they have read. The number of questions on a Vocabulary Practice Quiz generally corresponds to the book's interest level. Most lower-grade (LG) books have five-question quizzes, while most middle-grade (MG), middle-grade-plus (MG+), and upper-grade (UG) books have 10- or 15-question quizzes.
Within the quiz, each vocabulary word is presented in context (meaning, in an excerpt from the book), which takes the student to the part of the text where the word appears. The student reads the excerpt and is then asked to correctly identify the definition of the word.
Words typically chosen for these quizzes are those that students are most likely to find unfamiliar. By helping students to solidify command of words at the upper end of their reading level, the quizzes promote the ability to move on to texts of greater complexity. We take care, though, to ensure that the choice of words is not so challenging that the quiz is frustrating for the student.
The Renaissance content designers who write Vocabulary Practice Quizzes carefully choose words to use based on a formula that generates a list of word candidates from the text. Considerations include the overall book level of the text, the difficulty of the individual word, the number of times the word is used in the text, and more.
We select books for Vocabulary Practice Quizzes based on the popularity of the associated Reading Practice Quiz, so chances are that students' favorite titles have both quiz types available. AR includes more than 11,500 Vocabulary Practice Quizzes for US students. Over the past two years, students have taken Vocabulary Practice Quizzes about 12 million times!
Literacy Skills Quizzes
Like the vocabulary-focused quizzes, Literacy Skills Quizzes are designed to be taken after the student has taken the Reading Practice Quiz. As mentioned earlier, Reading Practice Quizzes assess students' literal comprehension of the text. Literacy Skills Quizzes then take a deeper dive into students' understanding of and ability to analyze the text.
Literacy Skills Quizzes include twelve multiple-choice questions from four categories: Literary Analysis, Inferential Comprehension, Initial Understanding, and Constructing Meaning. Questions cover skills such as recognizing conflict and climax, understanding literary devices, comparing and contrasting, deriving word or phrase meaning, and responding to literature.
AR includes more than 850 Literacy Skills Quizzes, which were created by our most experienced content designers and editors. For each quiz, multiple staff members read the book and then collaborate to write and fine-tune the questions. Two of our editors take the quiz, marking any questions or answer choices that may need revision—perhaps because they don't fully test the targeted skill, or because the wording may not be clear to students. The editors then compare notes and meet with the quiz writer to discuss revisions. Once revised, the quiz is taken by a third editor before it's approved for use.
As we mention in our earlier blog, Reading Practice Quizzes use distractors (incorrect responses) that are clearly wrong to students who've read the book but are plausible to those who haven't read it. In Literacy Skills Quizzes, both the correct response and the distractors are typically drawn from the book's content. This helps to ensure that the quiz assesses students' understanding of specific literacy skills, rather than their ability to include or exclude responses based on simple recall of the book.
Following is a sample question written for a Literacy Skills Quiz, for the novel How to Eat Fried Worms. The question assesses the student's ability to make inferences and to recognize persuasive language, and it fits into two of the four categories listed above: Inferential Comprehension and Constructing Meaning.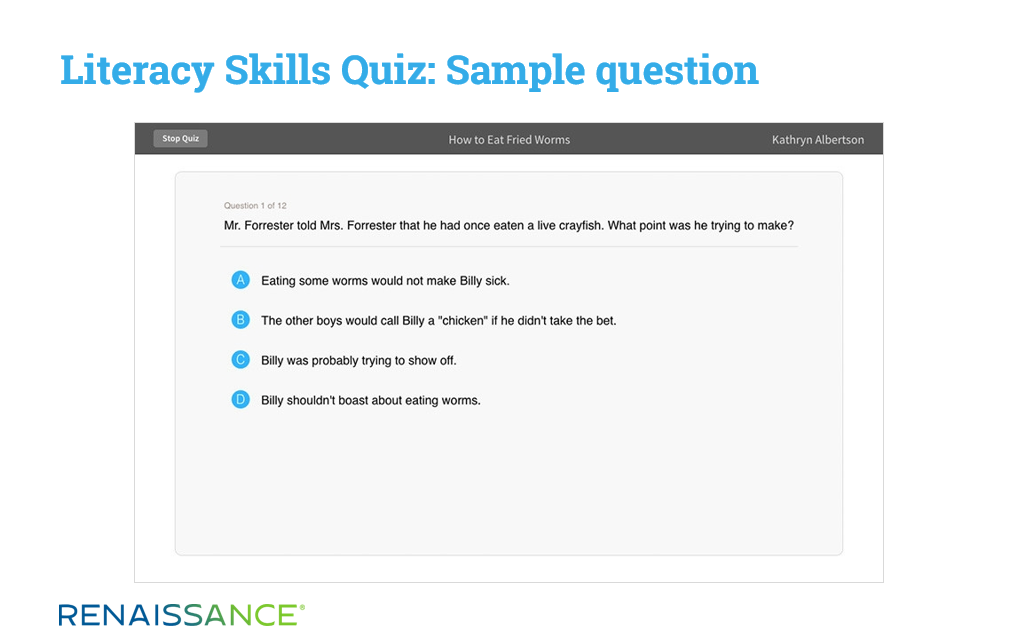 Books that have Literacy Skills Quizzes include recipients of the Newbery Medal and other award winners; classics such as Shakespeare's Hamlet and Jules Verne's 20,000 Leagues Under the Sea; and hundreds of popular books requested by our customers or included on classroom reading lists—including all seven books in the Harry Potter series.
Spanish-language quizzes
An important part of our mission of accelerating learning for all is assessing the reading performance in Spanish of both native speakers and learners. By helping to assess students' reading skills in Spanish, our Spanish-language quizzes help to accelerate learning of other skills, too. They also support parity for students between English and Spanish content in Accelerated Reader.
Spanish-language Reading Practice Quizzes are not simply translations of existing English-language quizzes. Instead, they are written in Spanish by writers who are native speakers. Spanish-language quizzes are created in Mexico City by a team consisting of four permanent members and other writers and editors who join the team as needed. They follow the same careful editorial process that the US team does, ensuring consistency across AR quizzes.
The selection of books for Spanish Reading Practice Quizzes includes translations of popular English-language titles, as well as books written in Spanish by authors from Argentina, Spain, Mexico, and many other countries. Huevos verdes con jamón (Green Eggs and Ham) by Dr. Seuss and Los juegos del hambre (The Hunger Games) by Suzanne Collins are examples of popular books translated from English. La lagartija y el sol by Alma Flor Ada and La casa imaginaria by Pilar Mateos are examples of popular books written in Spanish.
Because there isn't a "neutral" or universal version of Spanish, following the book's specific language is a very important part of quiz development. For example, the toy known in English as a kite can be called cometa, papalote, barrilete, volantín, chiringa, papagayo, and more in Spanish. Similarly, the game known as hopscotch in English has at least 15 possible names in Spanish: rayuela, avioncito, bebeleche, and more. Using each book's specific terminology is important for ensuring student comprehension of the quiz—and for helping students to secure vocabulary and to appreciate the different varieties of Spanish.
More than 11,700 Spanish-language quizzes are currently available in AR. In addition to creating quizzes for newly published books, the Mexico City team also continues to write and edit AR quizzes for the Spanish-language books that are accessible in the myON digital platform. When schools purchase both programs, students can discover and launch myON digital books within AR. Once they've finished reading, they can then easily access the Reading Practice Quiz in AR to assess their comprehension and demonstrate progress toward personalized reading goals. This process is the same for Spanish- and English-language books in myON—and digital access is especially important now, given that many students cannot visit school or classroom libraries due to COVID-19.
Access to diverse quizzes
If a book has a Vocabulary Practice Quiz and/or Literacy Skills Quiz available, students will see these options listed alongside the Reading Practice Quiz in the AR program. We generally suggest that students take the Reading Practice Quiz first, followed by the other quiz types when they're available. The administrative login for AR provides access to the full list of Vocabulary Practice Quizzes and Literacy Skills Quizzes, along with the ability to preview quizzes individually.
Teachers, librarians, students, and parents can use the free AR Bookfinder website to locate books that have AR quizzes. When they select a title, they'll see which quiz types are available. AR Bookfinder includes an Advanced Search feature that allows users to limit the results to a certain quiz type (such as Vocabulary Practice Quiz or Literacy Skills Quiz) or to a certain language (Spanish or English). Using these options in conjunction with the other available filters—such as author, title, interest level, and/or reading level—supports targeted searches for engaging books that have specific quizzes available.
AR Bookfinder also has a Suggest AR Quiz option that allows educators, students, and parents to contact us directly. In addition to listing the book's title, author, and language, users can suggest a specific quiz type. We continue to release new quizzes every week, and we're committed to ensuring that AR provides students with choice—fiction and nonfiction, new releases and classics, English and Spanish—for guided independent reading practice.
Looking for diverse books to engage your students? Check out the latest edition of What Kids Are Reading, the world's largest annual study of K–12 student reading habits. And to see everything that today's Accelerated Reader has to offer, click the button below.