April 4, 2019
Are our students reading enough nonfiction? And, perhaps more importantly, are they understanding the nonfiction texts they read?
In this analysis, we take a closer look at the data behind What Kids Are Reading, the world's largest annual study of K–12 student reading habits. After sorting through the 289,445,136 books students read and comprehension quizzes they took during the 2017–2018 school year, we have a lot to reveal about students' nonfiction reading patterns.
In this article, we'll look at:
How much nonfiction do students read?
On average, how well do students comprehend nonfiction, as compared to fiction?
What are the most popular nonfiction books in each grade?
How much nonfiction do students read?
Nonfiction is an essential component of college and career readiness for all learners. To enter the postsecondary world—to pursue higher education or get started in the workplace—almost always requires reading some type of nonfiction, whether it's a college textbook, a job posting, or instructions for submitting an application.
For this reason, educators, researchers, and policymakers have spent the last decade trying to increase the amount of nonfiction students read over their K–12 schooling. Many states have added or strengthened standards around nonfiction reading. They often encourage students to read an increasing amount of nonfiction as they move from grade to grade, with some recommending that high school seniors read as much as 70% nonfiction.
The latest data from What Kids Are Reading show the opposite pattern: Students in grades 9–12 read the least amount of nonfiction.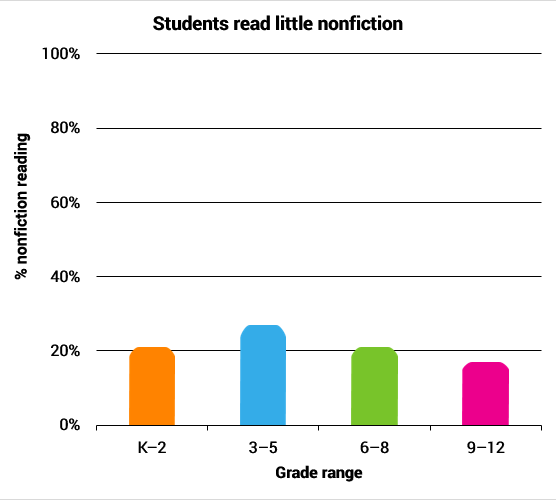 In the early grades (K–2), as students are just learning how to read, the average student—a child whose percentile rank for reading achievement is between 35 and 65 at the start of the school year—reads 1 nonfiction book for every 4 fiction books. They average 21% nonfiction across all their reading (books read independently, books read with another person, or books read aloud to them).
As students shift to more independent reading in the intermediate grades (3–5), they also shift to slightly more nonfiction titles. Students typically read just over 1 nonfiction book for every 3 fiction books, averaging 27% nonfiction overall. Unfortunately, the intermediate grades mark the high point of students' nonfiction reading.
In middle school (grades 6–8), nonfiction reading dips back to 21% of total reading (approximately 1 nonfiction book for every 4 fiction titles). However, because students in the middle grades are generally reading less each day than kids in the early grades (for details, see pp. 14–15 in What Kids Are Reading), this means they're actually spending less time reading nonfiction overall despite having the same fiction-to-nonfiction ratio.
Of all the grades, students in high school (grades 9–12) read the least amount of nonfiction. High school students generally average 17% nonfiction, or 1 nonfiction book for every 6 fiction books. They also spend less time reading than all the other grade ranges—10 minutes or less each day—which translates to very little nonfiction overall.
One important detail to keep in mind while reviewing this data is that, while the reading records used by What Kids Are Reading tend to capture a large portion of students' reading activities, it doesn't capture all reading. Time spent reading science and history textbooks is not captured, nor is time spent reading online news sites, periodicals and magazines, or scholarly journals.
As a result, students may be reading more nonfiction content than these numbers indicate—but likely not enough to bring them up to the high recommendations (up to 70% nonfiction) set by many academic standards.
On average, how well do students comprehend nonfiction, as compared to fiction?
A common assumption is that, for one reason or another, nonfiction is more difficult for students to read than fiction.
The dataset behind What Kids Are Reading includes students' results on short literal comprehension quizzes. These quick quizzes measure the degree to which students understood the information and facts directly stated in the text. Literal comprehension is a necessary foundational skill; without it, higher-order skills such as inferential comprehension or evaluative comprehension cannot take place.
So how well do students understand nonfiction?
Although there is a difference between students' literal comprehension of fiction and nonfiction, that gap is surprisingly small.
In grades K–2, students answer 84% of literal comprehension questions correctly for their fiction reading, compared to 79% correctly for nonfiction reading—a difference of only 5%.
Since students can answer some questions wrong and still pass a quiz (best practices recommend students aim for 85% or higher, while 60% or higher is required as a minimum to pass), we also compared the number of quizzes passed to quizzes failed. On average, K–2 students pass 89% of quizzes on fiction titles and 85% of quizzes on nonfiction titles—once again, a very small difference (4%) between the two.
The difference is slightly larger in grades 3–5, but not because students start to struggle with nonfiction: Nonfiction comprehension holds steady at 79%. Instead, fiction comprehension grows to 86%, resulting in a 7% difference. At the quiz level, students pass 91% of fiction quizzes and 86% of nonfiction quizzes.
In middle school (grades 6–8), it's fiction comprehension that holds steady—staying at 86%—while nonfiction comprehension rises slightly to 80%, reducing the gap down to 6%. For quizzes, students pass 90% of the fiction quizzes and 86% of the nonfiction ones.
High school is the only point at which comprehension rates drop, but they drop only for fiction books, falling to 84%. This might reflect the more challenging reading students often tackle in grades 9–12, which often includes complex works of literature such as Shakespearean plays, The Scarlett Letter by Nathaniel Hawthorne, and The Metamorphosis by Franz Kafka.
Meanwhile, nonfiction comprehension continues to grow, rising to 83% in high school, meaning the gap between fiction and nonfiction comprehension is a mere 1%. The difference is 0% when looking at quizzes: High schoolers pass 86% of fiction quizzes and 86% of nonfiction quizzes.
The takeaway here is that nonfiction is not too difficult for our students: Even our youngest students are capable of reading and comprehending nonfiction texts.
Moreover, research shows that comprehension rates of 75% or above are associated with accelerated reading gains. Since the data show average nonfiction comprehension starting at 79% in K–2 and rising from there, we can conclude that not only can our students comprehend nonfiction, but they can read nonfiction with high enough comprehension that nonfiction reading can help grow their reading skills and overall reading achievement.
What are the most popular nonfiction books in each grade?
If comprehension is not the issue, then why don't students read more nonfiction?
Maybe they just don't like it. But research says that's not the case: Children are significantly more likely to prefer fact over fiction. It's us adults who prefer fiction.
One study suggests the issue may be a lack of access to nonfiction texts. And even when students have access, they may simply have trouble finding books they enjoy.
One of the main reasons why we publish What Kids Are Reading every year is to highlight the most popular books among students, so educators, families, and other community members can help children find books they'll love to read. The report can also be used to help guide purchasing decisions, ensuring school and community libraries are stocked with books that kids will want to read.
In general, we see very few nonfiction titles in the lists of overall Top 20 books and series. However, the data allows us to examine nonfiction more closely, pulling out students' favorite nonfiction titles in each grade range.
Top 10 Most-Read Nonfiction Titles for Grades K–2
Fly Guy Presents: Sharks by Tedd Arnold
The Tiny Seed by Eric Carle
From Head to Toe by Eric Carle
Fly Guy Presents: Space by Tedd Arnold
Jump, Pup! by Susan B. Neuman
I'm a Caterpillar by Jean Marzollo
Me on the Map by Joan Sweeney
Snow by Marion Dane Bauer
I Am Water by Jean Marzollo
I Fall Down by Vicki Cobb
Top 10 Most-Read Nonfiction Titles for Grades 3–5
Smile by Raina Telgemeier
Sisters by Raina Telgemeier
The Story of Ruby Bridges by Robert Coles
Real Friends by Shannon Hale
Martin's Big Words: The Life Dr. Martin Luther King, Jr. by Doreen Rappaport
Who Would Win? Killer Whale vs. Great White Shark by Jerry Pallotta
Who Would Win? Tyrannosaurus Rex vs. Velociraptor by Jerry Pallotta
Who Would Win? Polar Bear vs. Grizzly Bear by Jerry Pallotta
Who Would Win? Lion vs. Tiger by Jerry Pallotta
Fly Guy Presents: Space by Tedd Arnold
Top 10 Most-Read Nonfiction Titles for Grades 6–8
Smile by Raina Telgemeier
Sisters by Raina Telgemeier
Night by Elie Wiesel
I Am Malala: Young Readers Edition by Malala Yousafzai
A Child Called "It": One Child's Courage to Survive by Dave Pelzer
Real Friends by Shannon Hale
Chasing Lincoln's Killer by James L. Swanson
El Deafo by Cece Bell
Ugly by Robert Hoge
Sadako and the Thousand Paper Cranes by Eleanor Coerr
Top 10 Most-Read Nonfiction Titles for Grades 9–12
Night by Elie Wiesel
A Child Called "It": One Child's Courage to Survive by Dave Pelzer
The Glass Castle: A Memoir by Jeannette Walls
Tuesdays with Morrie by Mitch Albom
Into the Wild by Jon Krakauer
The Lost Boy: A Foster Child's Search for the Love of a Family by Dave Pelzer
Narrative of the Life of Frederick Douglass: An American Slave by Frederick Douglass
A Long Way Gone: Memoirs of a Boy Soldier by Ishmael Beah
Unbroken: A World War II Story of Survival, Resilience, and Redemption by Laura Hillenbrand
American Sniper: The Autobiography of the Most Lethal Sniper in U.S. Military History by Chris Kyle
Create a custom nonfiction list for your students
Of course, if you're looking for nonfiction reads for a specific student or group of students, you may want to know more than just what is popular in their grade. You may want to further narrow results by text complexity level, interest level, or another factor.
Thanks to the What Kids Are Reading Custom Report Builder tool, you can easily generate a custom list of nonfiction titles according to your students' needs and interests.
When you arrive on the page, click on the plus symbol next to "Tips for using the Custom Report Builder" for helpful information about the filters you can use.
On the Custom Report Builder tool, select nonfiction under the Language filter. Give the tool a moment to reload—remember, it's looking at millions of reading records—and you'll see a list of the most popular nonfiction books.
By default, this list will display data for grades 1–12. You can narrow the list to just one grade by using the Grade filter. You can also select multiple grades at a time if you'd prefer to see the top books for a grade range rather than a single grade level.
You can also filter by text complexity level using the ATOS Level slider, Interest Level (select one or multiple), Language (English or Spanish), or State (using the drop-down menu).
When you're finished, click the green "Generate My Report" button for a PDF of your custom book list, which you can print or save.