An easier way to enable accommodations in Star Assessments
At Renaissance, our mission is to accelerate learning for all. With this in mind, we continually evaluate and enhance our products to meet the needs of all educators and students.
We are excited to announce that Star Reading and Star Math assessments in English are accessible to students who are blind or visually impaired—providing access to assistive tools and technologies that allow students to showcase what they know. Teachers also get the reliable data they need to inform instructional decisions that support student learning and growth.
By selecting the Preferences tab from the teacher/user dropdown menu, educators can now easily view and set the most appropriate accommodation(s) to meet the needs of their students:
When any of the options are chosen, the accommodation will appear in a toolbar on the screen while a student is taking a test. The student can use the toolbar to select and use whichever tools are available.
In the following example, the student has access to all the accommodation options:
Response Masking: Allows students to cross off incorrect answers.
Accessibility icon: Includes color contrast to allow students to choose the color set to increase readability and reduce fatigue. Font size, combined with the zoom features, provides a test that is up to 400 percent larger than the default size.
Calculator: Is enabled for all Star Math items.
Line Reader: Helps to block text surrounding the line being read.
For detailed information about these features, please refer to the Star Accessibility and Accommodations video.
Information about the accommodation(s) provided for students can be found on the Star Reading and Star Math Test Record Report, Test Activity Report, and Diagnostic Report.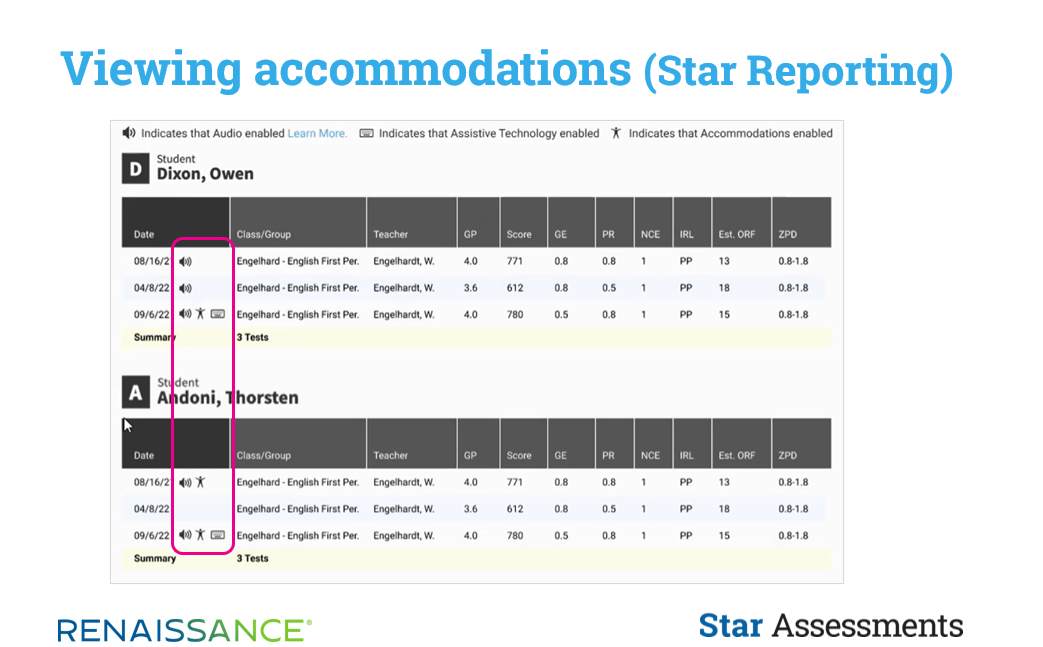 You can learn more about accommodations in Star Assessments by visiting the Star Accommodations FAQ and the Accommodations Preference topic in the Help File.
We continue to build our programs to meet students' and educators' needs, and we are excited to share that most measures included in Star CBM Reading and Star CBM Math will soon be available in Braille. We are excited to share additional details soon.